Holla music lovers! Artikel ini pas banget loh buat para Simpsonizers kayak aku hehe.Tau dong lagu siapa yang bakal aku bahas kali ini? Yaps! Cody Simpson. Aku suka banget semuaaaaa lagu-lagu punya Cody Simpson.Soalnya lagu Cody kebanyakan yang bikin good mood,terus lagu Cody juga kebanyakan pas didengerin kalo lagi sedih dan gatau mau cerita ke siapa dan yang pastinya bikin badmood aku ilang hehe.Selain musiknya yang 'kalem' dan lirik lagunya yang so sweet,suara sekseh Cody pun yang jadi moodbooster aku wkwk.Pokoknya lagu-lagu Cody bikin hati damai deh!
Cowo kece asal Australia ini lahir di Goldcoast ,Queensland tanggal 11 Januari 1997.Dia punya nama lengkap Cody Robert Simpson.Dan kalian pasti udah pada tau dong kalo Cody itu atlet renang yang berprestasi,Cody pernah meraih medali di kejuaraan renang Queensland.Cody sangat suka musik seperti Ayahnya Brad Simpson.Tahun 2008, Cody meng-cover lagu Im Yours,Cry Me a River,Senorita dan I Want You Back di akun Youtube-nya.Dan karena hal itulah Shawn Campbell (produser asal Amerika Serikat) menerbangkan Cody dan keluarganya ke Amerika Serikat.Hingga pada April 2010, Cody menandatangani kontrak rekaman dengan Atlantic Records.So, mau tau lagu-lagu si cowok yang suka surfing dan gabisa hidup tanpa pantai ini? Let's check this out!
1.
iYiYi (feat. Flo Rida)
Remember when we first met, I had to tell you that
I couldn't live without your love
Baby I must confess, we were the perfect match
You we're a gift sent from above
When you're thinking about me, text 1-4-3
That means I love you girl
I'll be your everything, and all you need
Oh baby, let your heart take the lead
Menurut aku, lagu ini super duper so sweet.Lagu ini emang tentang hubungan jarak jauh alias LDR.Tapi ga menutup kemungkinan kalo lagu ini juga pas kalo kalian lagi fall in love.Dan bagi aku, lagu ini juga pas kalo kita lagi galau gara-gara patah hati soalnya kita sambil ngebayangin kalo Cody yang nyanyiin langsung lagu ini buat kita,langsung deh sedihnya ilang.Hmm, so melting duuh pokoknya 143 yaa Co<3
2.
Don't Cry Your Heart Out
Girl don't you cry your heart out, let me stop before you start out,
Don't need his explanations, no,
Cause he don't really want to know about the way your feeling now,
Cause I'm the one who's here for you no doubt,
So don't you cry your heart out
Lagu ini beneran pas buat yang lagi galau terus butuh moodbooster.Lagu ini Cody nyanyiin buat ngehibur cewe yang lagi sedih gara-gara cowonya.Cobain deh, pas kita galau kita dengerin lagu ini terus tutup mata kita dan bayangin kalo Cody lagi nyanyiin lagu ini pake gitarnya.Dijamin kita bakalan lebih feel better.
I'm sorry,
I wasn't there to catch the fall.
I didn't hear you when you called,
all of those nights.
Please don't forget the good days with me.
I can make back the heart aching beat.
When it gets dark and it's hard to see,
we'll turn on the lights.
Nah,baru di lagu ini yang galau berat. Lagu ini bercerita tentang sebuah hubungan yang harus hancur karena sebuah kesalahan.Cowonya mengakui kesalahannya dan dia sangat menyesal.Tapi mau bagaimana lagi semuanya telah terjadi, dan sebenarnya cowonya memang sangatlah berat buat melepaskan cewenya.Sama kayak lagu Ends With You yang sedih banget kalo di dalam suatu hubungan harus berakhir dengan kata putus.
This is like a dream
every bit of you, it makes me weak
how did i get here? in the sunlight, in your sun
I must be in heaven
cause i'm looking at an angel
who's staring back at me
her eyes so heavenly
Lagu ini favorite aku! Liriknya super duper so sweet banget.Lagu ini buat para Angels-nya Cody kan (sebutan fans cewe Cody).Bayangin aja digombalin Cody pake lagu ini siapa yang ga meleleh coba? Coba dengerin deh lagu ini dijamin bikin hati damai!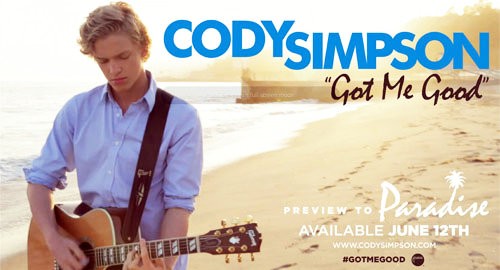 You said you're talking to your ex-boy
Well, well just remember he's your ex-boy (uh)
Well maybe I could be your next boy.
And just remember that you're better than the rest.
Lagu ini bener-bener got me good deh! Sama kayak lagu Gentleman, kedua lagu ini beneran berhasil bikin cewe-cewe nge-fly.Kata Cody juga gausah mikirin ex-boy terus, siapa tau yang jadi next boy kita itu Cody hehe.
6.
Summertime of Our Lives
Wherever you are
No matter how far
I promise that I won't give up on you
They say outta sight means outta mind
But that couldn't be further from the truth
'Cause I'm in love with you
I'm still in love with you
Lagu ter-favorit banget buat aku! Lagunya 'kalem' terus lirik lagunya menyentuh banget.Cocok banget buat kamu yang mau hatinya damai loh hehe.Di album Paradise, banyak banget lagu yang jadi favorit aku kayak lagu Summer Shade,Hello,Sinkin' In,Paradise dan Wish U Were Here (feat. Becky G).
Pokoknya lagu-lagu Cody sangat disarankan buat yang mau mencari kedamaian dihatinya *Jiahhh.Lagu-lagunya beneran pas buat kita yang lagu galau,fall in love bahkan bisa dijadiin moodbooster.Sebenernya banyak sih lagu-lagu Cody yang jadi favorite aku,saking banyaknya aku gabisa jelasin satu-satu hehe.Bagi aku, lagu-lagu Cody itu emang bener-bener 'pelarian' yang tepat kalo lagi sedih.Daripada sedih terus-terusan mending dengerin lagu Cody aja yang bikin hati damai dan good mood lagi.Kadang kalo kita sedih, kita suka bingung mau cerita ke siapa terus mau ngilangin sedih harus kayak gimana.Aku pikir,kalo kita cerita ke orang itu 80% don't care dan 20% seneng kamu punya problem (Yaa kecuali sahabat dekat dan keluarga kita yang bener-bener sayang sama kita).Jadi menurut aku mending dengerin lagu-lagu Cody aja yang bisa bikin hati kita semangat lagi hehehe dan kalo curhat mending ke Tuhan aja Yang Maha Segalanya
:)