This time i want to give a review about a Korean brand cosmetic named

Witch's Pouch Selfie Cushion Glow Tint Bar

. Have you heard of that brand?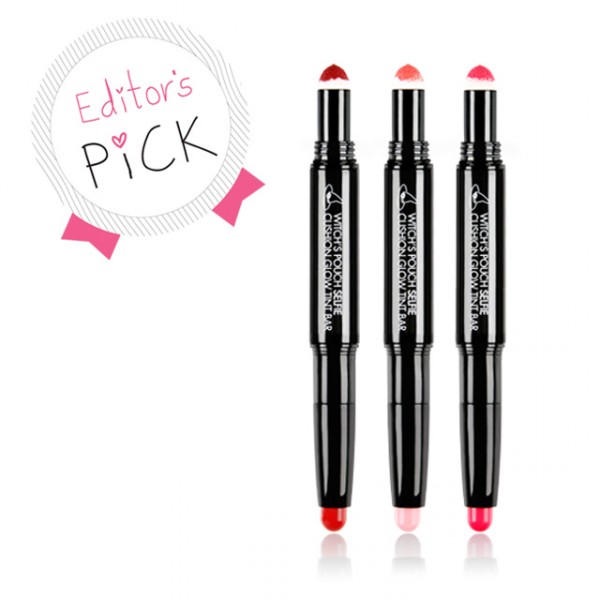 Well, it's my first time using WP product. I bought 2 WPs products, a concealer and a cushion (balm+tint).
My first impression of the product was ... The products are really cute (if you look at the package, it's so unique and i think it's quite different from the other/usual Korean product).
Back to my review about the tint bar.
This tint bar has 3 options : Red Moon, Peach Crush and Pink Lady. So, this bar has 2 sides, one side for lip balm and the other side for the tint. I bought the 3rd colour, Pink Lady and I'm quite fond of this product.
I love the scent of this tint bar, it smells like cherry but it doesn't smell really strong. And when i tried to apply this product, it's nice. When i applied the lip balm, it make my lip looks a bit glossy, but when i applied it with the tint, it looks more perfect and lovely for me :)
(Without flash) : From bottom to top : tint, balm, mix
(With flash)From bottom to top : tint, lip balm, mix (tint+lip balm)
The other thing that i like about the tint is the colour of the tint looks more natural after a couple of hours after the application. I really love it :D
It claims that it has moisturizing effect on it, but honestly, based on my first trial, it doesn't really make my dry lip feel moist. It might be because i have a really troubled lip. It's soooo dried, may be next time i try to moist my lip using an aloe vera before applying the balm/tint (I saw this tips on get it beauty show on YouTube). Because aloe vera can moisturize my lip.
And for the long lasting ability, i think it has a very good long last effect. I used it for more than 6 or 7 hours and the colour still looked nice on my lip.
I want to give my new opinion after a couple times i used this bar. I think that it doesn't last that long as i said previously. I used it, i ate and drunk something while using this product, unfortunately it just stayed for like 1 to 2 hours. Eventhough the colour is still look more natural as the time goes by. But i think if you must reapply the product for better effect.
(+) Lovely scent, Unique packaging, Long last ability, Lovely colour, Natural look
(-) Not really moisturize my lip, Not very pigmented, easily transferred, poor lasting ability